What About

Your

DNA?

— Genotype (genetics, data from your DNA)
— Phenotype (expressed traits, appearance, physical tendencies)
— Family (both recent family tree and deeper ethnic history)
— Environment & Lifestyle (positive and negative effects)
DNA is not the entire story, but it is one very important aspect.
Which are the best of the many, many DNA testing companies?

23andMe is a genetic testing service based in Mtn, View, California.
☞ Please contact me if you want a special invitation to join, before you order your kit.
Here is my own prioritized list of the 2015 top four DNA testing companies, each with over 500,000 DNA tests already done:

• 23andMe (adoption, deep ancestry, ethnicity, genealogy, health*)

• Family Tree DNA often called FTDNA (adoption, deep ancestry, full mtDNA sequencing, genealogy, identity, relationship)

• AncestryDNA, a subsidiary of Ancestry.com (adoption, ethnicity, genealogy)

• The Genographic Project (deep ancestry, ethnicity)
Each one of them has it's own plusses and minuses, and your "best" selection depends on what your goals, purposes, interests, and needs are.

What if you test at one company — and then want to cross-check your DNA and Family Tree data with some others?
GEDmatch can do it... for free, or donate $5. ≡ ≡ ≡ DNAGedcom ≡ ≡ ≡ Any others?
Some Really Useful Info on DNA Testing:
• DNA testing companies and Using Your DNA test results: 23andMe (DNA Explained Blog)
• Choosing a DNA testing company (ISOGG, Genetic Genealogy)
• 2014 List of DNA testing companies and DNA Genealogy Blog (The Legal Genealogist)
• DNA Testing Companies (SNPedia)
. . . More info coming soon...
∴ ∵
* As of late 2014, the FDA asked 23andMe to stop providing HEALTH REPORTS in the USA until further notice. These Health Reports are still available in the UK and Canada, and perhaps some other countries, but 23andMe decided to comply in the USA, for now.
An alternative is to run your DNA test with 23andMe and then use the data with Promethease software and the SNPedia database.
Write to CONGRESS and tell them that the FDA is overstepping their bounds ... they are being too Draconian with their guidelines. DNA tests are NOT a medical device. Anyone can ask their doctor's advice, but many doctors are not yet up-to-speed on DNA testing, so you need to find a specialist. What would the Supreme Court say? Is this FDA guideline Unconstitutional?
It's YOUR DNA! Please see my BLOG post.
Family Relationship Names and DNA Percent shared (averages)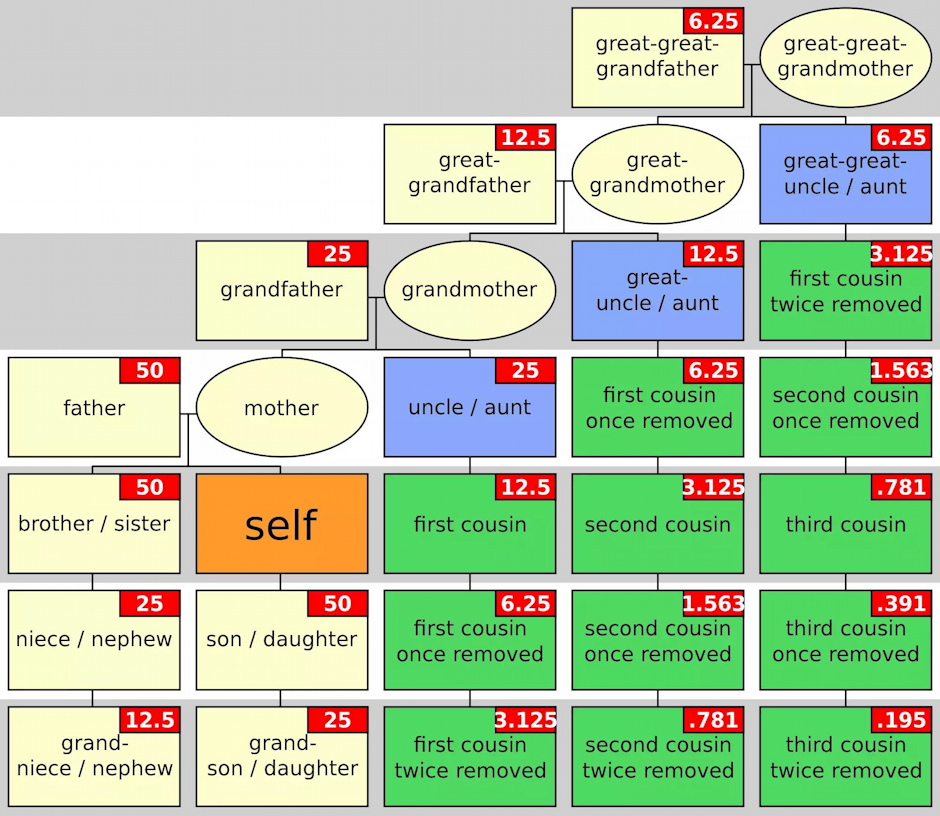 With random recombinations of DNA in each child, there can be minor variations, probably a few percent, from the averaged, approximated, theoretical percentages shown in this chart. Also, variations can randomly accumulate, one way or the other, over many generations.
---