Family
Photos
:::
This webpage will become a directory listing
— a table-of-contents
— a sort of catalog
— for family photos.
:::
Last Update: 2015-05-15
:::
Family Photos ... Family Stories ... More Coming Soon!
Please send me a few of the best of your old family photos.
I have a high-quality scanner and can restore and retouch old photos digitally.
This website is in development, and may change a lot; daily, weekly.
There are some Family STORIES beginning to collect,
click on Stories in the menu bar, or click HERE.
:::
Thank you for helping us test this new website.
This is a rapid prototype design.
Concepts, structure, content first.
Then make it look better, later.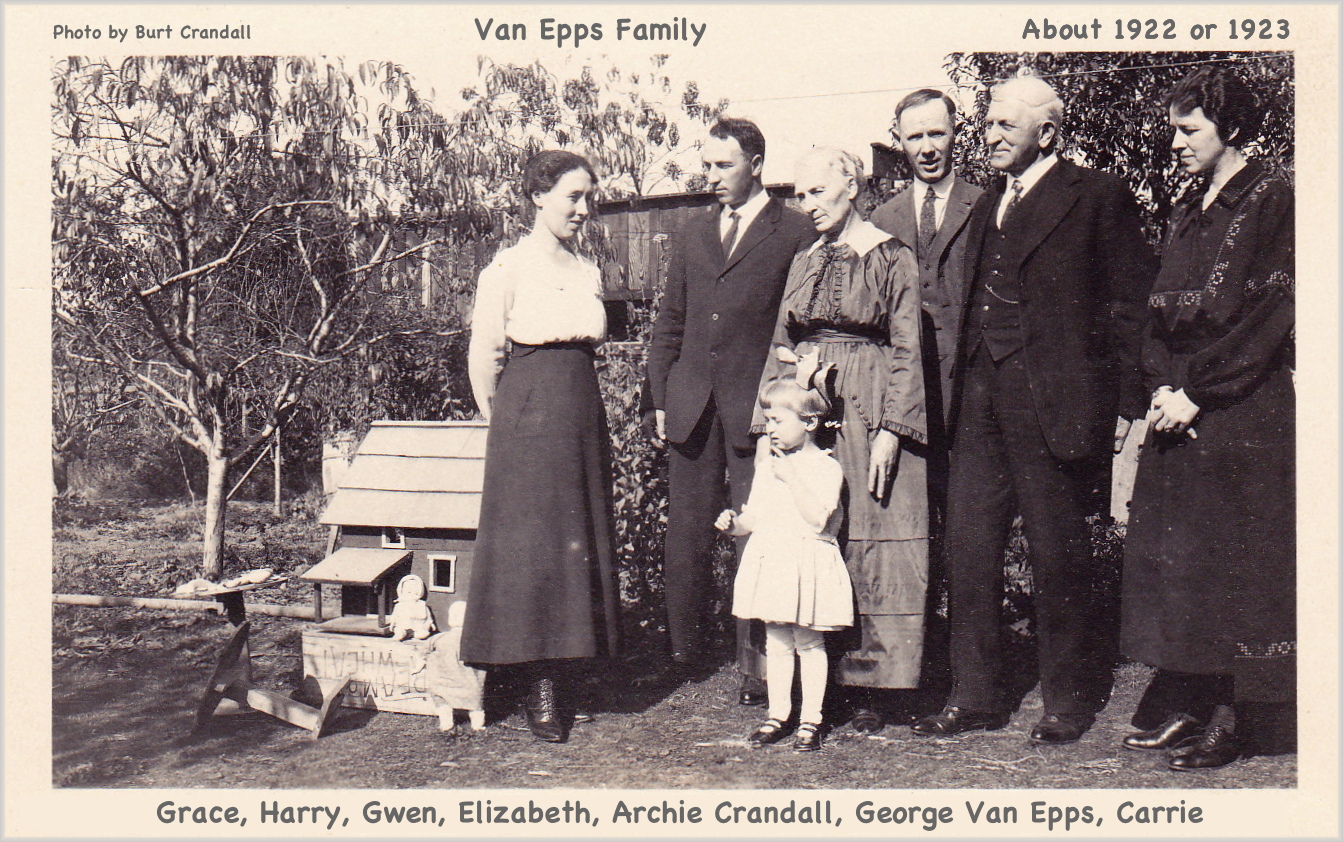 Grace (Lane) Van Epps, Harry Van Epps, Gwendolyn Van Epps (Fanucci),
Elizabeth (Shankle) Van Epps, Archie Crandall, George Van Epps, Carrie (Van Epps) Crandall
in Los Altos or Palo Alto, California, about 1922 or 1923, four Van Epps generations.
:::
Also — There is a FIVE GENERATION photo, taken in 1958, with
Deorah Bailey, Joyce Fanucci Bailey, Gwendolyn Van Epps Fanucci,
Harry Van Epps, and Elizabeth Shankle Van Epps; also
by photographer Burt Crandall; that will be coming here, soon!
:::

≡≡≡
≡≡≡ A small collection of selected old family photos (1920s through 2010s) will go here. Plus, any major events, one or two per family unit per year?
≡≡≡ Photos from our family archives... WAY before Facebook even was dreamt of.
≡≡≡ Please send me whatever you can share.
≡≡≡
≡≡≡ Check back later... There will eventually be some kind of photo albums here, when we get more than a dozen photos to show.
≡≡≡
≡≡≡ PLEASE, add your email address to the Sign Up at the top, if your want notifications about major website, newsletter, or blog updates when they occur.
≡≡≡ Your personilized Sign-up will also give you access to the PRIVATE features that are hidden from search engines. See the golden padlock in the Menu Bar?
≡≡≡ Any of those Golden Padlocks will go away after you Log In.
≡≡≡

:::
More photos and stories are coming soon...
:::
More photos
and stories
are coming soon...
Please check back!
:::
More photos and stories are coming soon...
::

Fanucci Cousins Parties ≡≡≡ 2007: Santa Rosa, California ≡≡≡ 1997: Los Altos, California
There was an old Fanucci saying, "The only time we get together is for weddings and funerals."
So, Judy Fanucci-Reid organized a party in 1997; and Camille Fanucci organized a party in 2007.
Next one, in 2017?
::
:::
More photos and stories are coming soon...
:::
More photos and stories are coming soon...
---