Fanucci || What's in a name?
... Fanucci? Fannucci? Fanucchi? Fannucchi? Vanucci? Vannucci? Ucci? Nucci? Tucci? Anucci? Banucci? ...
The Origin of the Name Fanucci
Fanucci possibly comes from Cristofanucci — or Stefanucci which means little Stefan, or son of Stephan — as the first syllable was dropped, in the middle ages?
Another theory: Stefano -> Stefanuccio -> Fanuccio -> Fanucci

-ucci means any of these: little, a term of endearment, or diminutive, or son of.
The Origin of the name Fanucci and the earliest known reference to a Fanucci in Tuscany is a document from the 1300s. Also this: "… the last name Fanucci represents very probably an ipocoristico aferetico (i.e. a diminutive that has lost its initial part) of a naming form such as the model of Cristofanucci (or Stefanucci) ... " and this: "In the 1700s it may also have been spelled Fanuzzi" — from an Italian name researhcer, Dr. Euro Puletti, in 2005.
Pronouncing Fanucci?
In Italy, Fanucci and Fanucchi are pronounced differently:
• fanucci : [fa'nuttchee] (plural fanuccis rhymes with cheese)
• fanucchi : [fa'nukki] (very similar to fanookey, but with a stronger k)

Some Facts About Fanucci
Don Fanucci was a character in the Godfather.
Double Fanucci is a card game.
Fanucci's Restaurant was in Pennsylvania. After many very successful decades, it closed in 2012, when the owner retired.
There are two known persons named George Fanucci in the USA. One in California and another one in Florida.
Fanucci and Sons Garage was an automobile business in Mountain View, California between 1917 and 1960. Last owned by George Fanucci, Sr. and founded by Tito Fanucci, with his three sons and his wife Maria Bertolani-Fanucci.
:: So, now you know, just sayin'. ::
Some names with -ucci- that are found in Italian phone books?

Ucci Angelucci Antonucci Balducci Bellucci Bucci Bucciarelli Carlucci Colucci
Fanucci
Fanuzzi Ferrucci Ferruccio Fiorucci Guiducci Iacobucci Iacopucci Iannucci Landucci Lucci Marcucci Martucci Matteucci Mucci Narducci Nicolucci Nucci Nuccio Orsucci Paolucci Pascucci Petrucci Pucci Puccio Quartucci Quartuccio Quattrucci Raucci Santucci Tucci Ucci Ucciani Ucciardel Uccidati Ucciero Uguccioni Vannucci and many more.
Want to see maps?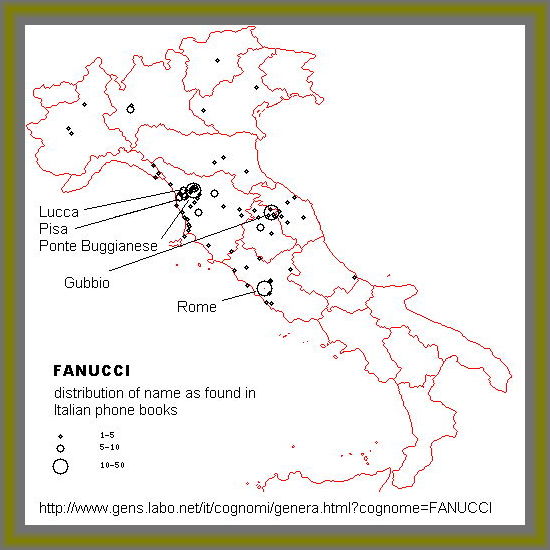 As you can see, there are tree clusters of FANUCCI in Italy,
one in Tuscany — several small clusters, a few larger ones;
one near Gubbio/Scheggia in Umbria; and another in Rome.
Fanucci Name Data — Italy — Tuscany
Out of more than 6,000 last names (surnames) found in Italian phone books in Tuscany in 2013 with more than 10 occurrences, the name Fanucci is near the 3,000th. That is near Buffi, Cianci, Cianti, Di Costanso, and Luchetti. The most common name in Italy is Rossi. The 2nd most common name is Bianchi. (Source: http://opendata.comune.fi.it/)
:::
Fanucci Legends, Rumors, Speculations?
Furuichi or Furuchi is a Japanese family name.
Was there a Fanucci who was on the crew with Marco Polo?
---
Resources for Fanucci Genealogy, References, and Family Websites
---
The Tuscan Fanuccis http://www.ilmiositoweb.it/fanucci/TOSCANI-ING.HTM
Origins of Fanucci http://www.ilmiositoweb.it/fanucci/ORIGINI-ING.HTM
World Wide Fanucci http://www.ilmiositoweb.it/fanucci/MONDO.HTM
— Many thanks to Christiano Fanucci in Italy for his website and Genealogy research in Italy over many years.
---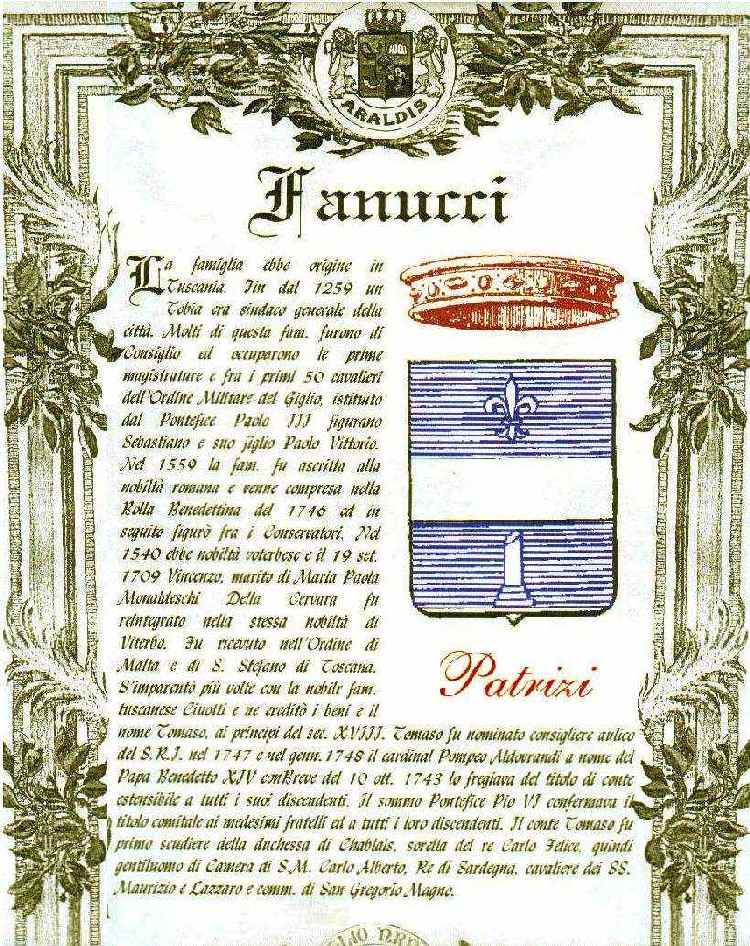 This Is The Noble Crest of The Fanucci from Tuscany and Lazio - Cristiano Fanucci
::
Test h1
Test h2
Test h3
Test h4
Test h5
Test h6
|| Text ||
---
::: ||| :::
---
---
---
Testing 1,2,3,...
(c) G. Fanucci 2015, may be freely used, with a reference or hyperlink to one of these URLs:
Fanucci.US or http://Fans.Fanucci.US/ or http://www.Fanucci.US/ or http://genealogy.fanucci.us/
(Please don't link to the URLs with any numbers in them, those numbers may change!)
:: Fanucci002b updated 2015 05 19 0700 ::
---