About Us || About This Fanucci Family Website
• For the extended Fanucci family — a repository and networking tool
• Keeping in touch and sharing family information
This website originated in May of 2015 with a Fanucci family in Northern California, San Francisco and the SF Bay Area, It came out of family tree research that began in 2005. My daughter had a Family History project to do for her 6th grade class. That endeavor was pre-dated by a Fanucci Cousins party in 1997 where several groups of cousins got together to socialize, and our family tree was drawn on a big poster board.
Next, some documents from grandparents; passports, naturalization papers, letters, etc. came to light. Related families have contributed copies of old family documents. Online resources such as Ancestry.com were used to uncover public information from decades long past. Connections lost for a few generations were rediscovered. Unknown cousins were found.
The intention for this website now is to share what we have discovered with anyone interested in our Fanucci family histories — to be a repository of family tree facts, stories, and photos. Some of the info is public, for convenience, and some is private, hidden from view — unless you log-in — and invisible to any web search engines such as Google.
Cesare, Tito, and Carlo Fanucci were three brothers who separately came from the area near Pisa – Lucca – Viareggio, just west of Florence, Italy, to California, in the years between 1907 and 1910. There are several Fanucci families now in California who can trace back to them; and other cousins in Italy who are descendants from their two sisters: Margherita Fanucci-Tomei and Frida Fanucci-Martinelli.
For some of their families, we have discovered our familial connections, and for other Fanucci families we only have some current contacts (Google, Facebook, Email, White Pages, etc.) and very little more. We would like to uncover more history and information about our connections, in the US or or worldwide.
Please visit Tree.Fanucci.US and please let us know if you may be a relative.
If you want to contribute any research or family tree info you have, please do so. We will endeavor to keep that info organized for possible further research.
... ... ...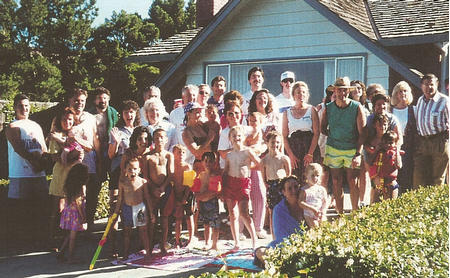 Fanucci Cousins California 1997
... ... ...
:: Fanuci009b 20150519 1040 ::
:::
---